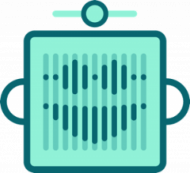 WITH YOUR COMPANY TO BUILD THE PERFECT BOT

OUR APPROACH MAKES THE DIFFERENCE!
Lately Chatbot is the buzzword. There are lots of companies that offer you easy solutions about, fast to be implemented, but unfortunately they often fall to work.
A deep knowledge of the business processes is necessary to get the best bot solution.
The Chatbot will be able to automate external and internal processes and will represent the brand voice and identity when it interacts with the customer base.
Choosing Vidiemme and dpeople you'll be sure to have the right approach to this new technology.
Chatbots give a 24/7 service, they can interact wth users in different ways (voice, text, images). Moreover they learn and remember the customers' language, age, interests, tastes,…
There's no need to have an app, create a specific account, use another platform: just send a message anytime you want and get the right answer!
Vidiemme and dpeople drive you through the implementation of a tailor-made bot solution, based on your company's needs
Want to know more about?
Write to us, we'll get back!
There is a Chatbot for every Business

Do a job interview using a Chatbot instead of submitting to the candidates the classic digital forms allows to make the company's approach more personal, thanks to profiled questions based on the recruiter's needs and a conversational user experience. The data collected by the Chatbot are then stored in a database that organizes all the archived information in order to make them easy to be consulted, speeding up and making the job of the HR department of the company much easier.

A simple conversational interface that can suggest and book a meeting room according on the parameters established by the user, such as number of guests and hour. The Chatbot will also provide directions to reach the meeting room. Integrated with the user's Google Account, the software interacts with their calendar, checking the availability of meeting rooms, and scheduling the date, time, duration, and event name.

CHATBOT
for the Conversational Care
Releasing call center operators from performing repetitive tasks while ensuring a standardized feedback quality and sales increase by using real-time data analysis based on individuals' preferences and habits is possible through Chatbot adoption. The physical operator will replace low added value activities with business development, sales promotion, or high-level customer support.
CHATBOT
Virtual Caregiver
Don't pause the relationship with the clinician, nor forget to take a medication at the right time again! Our Virtual Caregiver sends reminders to the patient, performs an educational function through tutorials, provides answers to doubts and questions. It works as a real personal assistant able to alert a clinician when unable to find a solution or if the health conditions of the person requires it.